At the NY Hall of Science, there are a whole slew of things I am working toward on any given day.  This blog will focus on five projects that are all pretty large scale, all interesting and challenging across several different dimensions,  and all in about the same stage of development.  I will also write about special projects that come up from time to time, like our work with Bjork, or World Maker Faire.  I hope the various other members of our team will contribute from time to time and share their perspectives.
Of these five main projects that I will focus on, I really am not sure how to do four.  Through The Works at NYSCI, I hope to sort and share my thoughts with the readers (who I imagine to be people involved with exhibits and other creative education endeavors).  I see it evolving a bit like a murder mystery, as my colleagues and i piece together clues and chip away at the uncertainty.  As Sherlock Holmes said:
"when you have eliminated the impossible, whatever remains, however improbable, must be the truth"
Or another perspective from Michelangelo:
"Every block of stone has a statue inside it and it is the task of the sculptor to discover it."
(michelangelo's sculpture struggling to escape from the marble)

So my colleagues and I are engaged in a process of both imagination and elimination, trying to be inclusive of as many great ideas as we can find and to exclude ideas only for good reason, not because of bias or impatience.
These are the projects that I will be writing about:
Design Lab:  A project to transform 5,000 square feet of exhibition space into a series of design based STEM learning activities that are facilitated by Explainers.  An integral part of the project is fostering design based approaches that work in STEM classrooms beyond the NYSCI walls.  Along side Design Lab is our new Maker Space which was designed by a great Brooklyn design build firm called Situ Studios.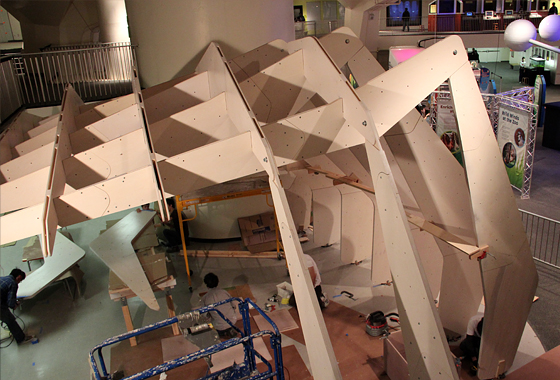 (The NYSCI Maker Space in construction)

The Great Hall Project:  This is a major exhibition about the interrelationship between human and environmental sustainability.  This is a large and open ended theme that is proving to be pretty difficult as a guiding principal.  We are working on prototyping this now with artists Theo Watson and Emily Gobeille and game designers Gigantic Mechanic.  The Great Hall space is magnificent and it will be a challenge to do something that enhances and does not compete with the space.
(The Great Hall)

ReGeneration. ReGeneration will be a full blown art installation, with 14 commissions of new work from international artists.  The theme is "community sustainability," and the artists have responded with a wide range of installations.  To me the interesting thing about this exhibition is that we have not chosen the typical "isn't nature beautiful" school of artists (which I shorthand as the Exploratorium artists, who put a frame around a natural phenomenon to draw our attention to its beauty and maybe inner workings.) Rather, we have chosen artists with a more critical eye on science and our place in the natural world and in our communities.  So, a big question is how does this kind of forward looking art connect with our audience, who is largely families with young kids who are not denizens of the art world?  We are working with a great curatorial team, and plan an official catalog  If this works, we would like it to be a biennale. 
(BioModd, an installation by artist Angelo Vermeulen, whose work will be in ReGeneration)

Innocence Guilt and Science. I met Peter Neufeld, the co-founder with Barry Scheck of the Innocence Project http://www.innocenceproject.org/, at SciFoo at Google.  Through the use of DNA and other scientific evidence, The Innocence Project has obtained exoneration of hundreds of death row and other prisoners convicted of violent crimes. Peter explained how he was trying to put the justice system on a more scientific basis.  I thought this would be a great window for exploring both DNA science and the science of cognition (how fallible eyewitnesses are, for example).  So we are working with the Innocence Project, a group called Touch Press, and Pulitzer Prize winning NY Times reporter Jim Dwyer (who wrote the book about The Innocence Project called "Actually Innocent.") to create a media rich ipad book.  The book will have a strong narrative by Jim, interactives that we are creating with Touch Press (http://www.touchpress.com/), and media resources such as video of witnesses and people released from death row after 20 years, along with court papers and other documents all accessible from within the narrative.  We think this will set a new standard for interactive books, as Touch Press has been doing with each consecutive release (see their most recent Skulls by Simon Winchester, or their publication of TS Eliot's the Waste Land).
Human + is a project that explores how technology enhances human ability, with a focus on technology for people with disabilities.  We are committed to this being an inclusive exhibition development process, so we have had some pretty intense interactions with people with disabilities, exploring what we share and what makes us different.  It is an emotionally powerful topic for me, as we have a 20 year old daughter with Cerebral Palsy (who also blogs as a sophomore at Smith College (her name is Lili Siegel, and she blogs as Silly Legal at http://smithblog2014.tumblr.com/).  We are doing the exhibition in partnership with the Oregon Museum of Science and Industry (www.omsi.edu) and the Quality of Life Technology Engineering Research Center at U Pitt and Carnegie Mellon (www.cmu.edu/qolt).  This is moving along quite nicely at this point, and as it has less friction, it is likely not to be as much the focus of this blog.
(Aimee Mullins, model, athlete, actress, and bilateral amputee)